Our Raku tongs have an unique shape for a most optimum grip for a various types of work.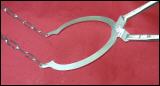 Construction. A big pair of Tongs means big and heavy work. Therefore you can attach an additional chain to our Type 300 so 2 people can lift up the work together.
And like our kilns we pay attention to the finishing thouch.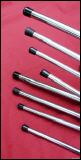 The finishing thouch Caps against dirt, moisture, slipping out of your gloves and slipping away when you put them against the wall.